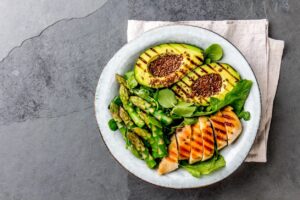 We offer a 12-Week Nutritional Weight Loss Challenge. This challenge is designed for you to challenge yourself to lose weight while learning how to consistently make healthier nutritional choices; in addition to incorporating working out at least three times a week. The initial consultation consists of:
Determining your weight loss goals

Calculating the amount of calories needed to help you achieve your weight loss goals
BMI
7 -Day meal plan
Every 1-2 weeks, you will weigh-in. Every 4 weeks from you initial visit, you will receive a new 7-day meal plan and a 30 minute nutritional call. You will receive weekly motivational and weight loss tips by email and/or text messages.
A completely different option offered is a 7-day meal plan, with 3 additional weigh – in visits. Some of our meal plans which are catered to fit your individual needs include the following: Gluten Free, High Protein, Low Carbs, Moderate Carbs, Low Fat, and Paleo just to name a few. We offer numerous meal plans all designed to help you achieve your fitness, weight loss, and/or health goals. Your meal plan, in addition to the other options that we offer will get you the body and healthy lifestyle you have always dreamed of. Let us help you make your dreams come true! We also offer 14-day, 21-day, and 28-day meal plans; as well as a Beach Body meal plan. Click the link below for further details. These may be purchased on- line or in the office.