Our Mission Statement: To inspire and empower all of our clients to live a healthy lifestyle and top-notch quality of life by providing individualized care to each and every client through integrated clinical practice, education, and research for weight loss and/or health.
Our Vision Statement: To provide a state-of-the-art experience in a "No Judgement Zone" atmosphere. For our clients to wake up every morning and love their bodies, love their looks, and live a healthy lifestyle. 
Dr. Andrea's Medical & Weight Loss Clinic is owned and operated by a Nurse Practitioner, Personal Trainer, IFBB PRO (Professional Body Builder), and Certified Weight Loss Specialist; who desires to provide you the best evidence-based care for weight loss solutions. The combination of nursing, medicine, a weight loss trainer, and a Nurse Practitioner with a passion for helping others achieve their weight loss goals is a winning combination.  Dr. Andrea has her own success story of getting her BMI into the "normal" category, being taken off of her blood pressure medicine because her blood pressure was dropping too low, and dropping her body fat by 15 percent.  She achieved all of this through a lifestyle change which included exercise, training, and making healthier nutritional choices. 
Dr. Andrea's Medical & Weight Loss Clinic desires to help any and everyone who desires to lose weight. If you are looking to lose weight, improve your health, and/or achieve the body you have always wanted; we can help. Maybe you just need the extra push to start an exercise program or need an accountability partner.  That is what we are here for.  We are here to help you. We will strive to help you meet your weight loss goals no matter what.  We are motivated and will provide you with the motivation that you need to succeed. 
Our slogan at Dr. Andrea's Medical & Weight Loss Clinic is to "Let Dr. Andrea add balance to your weight loss journey."  We want you to have a BMI in the  "normal" category, improve your nutritional intake, lose weight, and live a healthy life. Our services are designed to provide a variety of choices for our clients. We offer behavior modification, motivation and inspiration, medications, meal plans, and exercise regimens to fit your needs; as well as body aesthetics/body contouring and anti-aging products. We will be your accountability partner and help you remain on track. Stop by and see us today.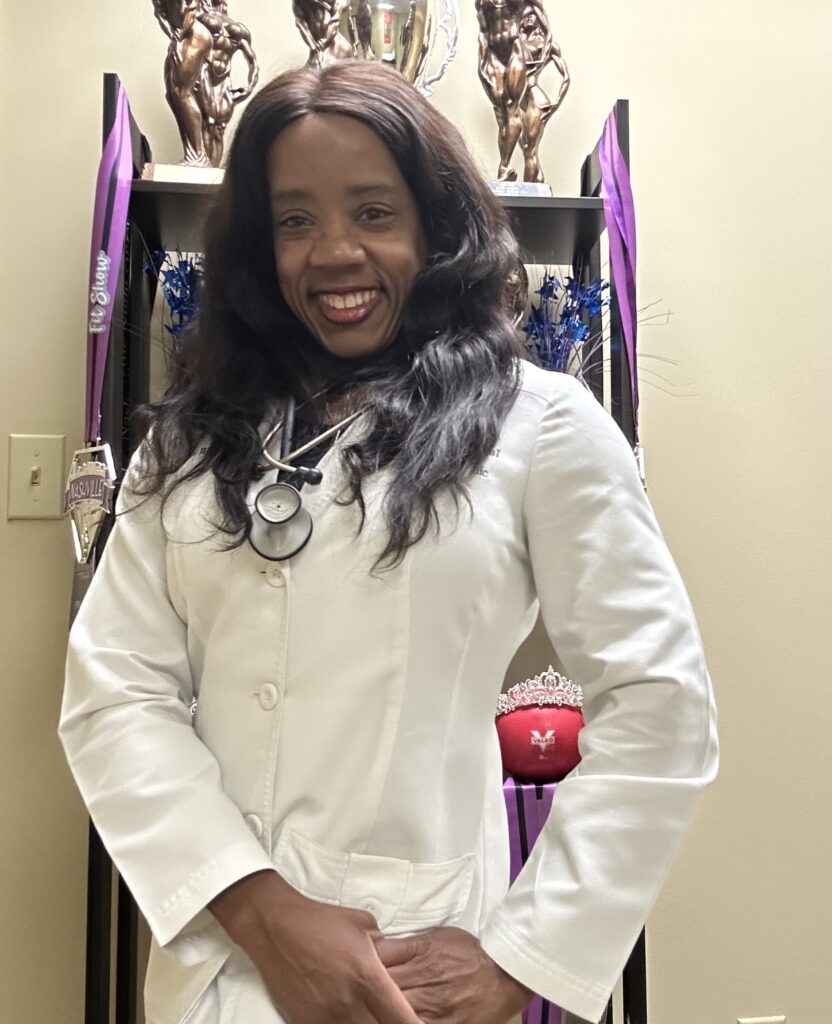 Dr. Andrea Walker is a Board Certified Nurse Practitioner with a Doctor of Nursing Practice Degree. She obtained her Bachelor of Science in Nursing from Northwestern State University in Shreveport, LA. She obtained her Master's Degree from Grambling State University in Grambling, LA and obtained her Doctor of Nursing Practice Degree from Walden University in Minnesota, MN. She is a personal trainer, certified weight loss specialist, and IFBB Professional Figure Bodybuilder. She is very passionate about weight loss, being healthy, and helping others achieve their dreams so that they may live life to the fullest.
Certifications:
American Academy of Nurse Practitioners
National Academy of Sports Medicine
National Registry of Certified Medical Examiners
Minority – Owned Small Business
Women – Owned Small Business
Affiliations:
Sigma Theta Tau Nursing Honor Society

Greater Memphis Area of Advanced Practice Nurses
Member of American Association of Nurse Practitioners
International Federation of Body Builders Professional (IFBB Pro)League
Dr. Karen Armour, MD is the licensed supervising physician for Dr. Andrea's Medical & Weight Loss Clinic, PLLC.